The second artist retreat is off to a good start despite a rocky Monday. Decisions have been made. Large pieces have cut into smaller ones. Fabric has been sized. Gelatin has been pored for mono printing. Furniture has even been rearranged.
Midst all the commotion has been lots of laughter as well as exchanging of ideas and telling of stories. And yes, we really have been hard at work. While it's not yet possible to give you a glimpse of what we've been up to - because my iPad isn't recognizing my camera, which hopefully will be rectified tomorrow - I can share a few pictures taken on Sunday.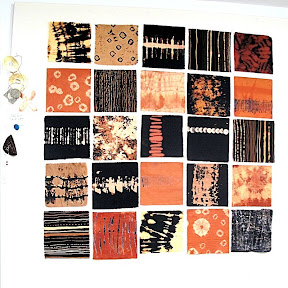 My discharged fabric - now destined to become a installation.
A few of Pam's printed and hand stitched fabrics.
Details of Pam's art.